We look forward to welcoming Special Guest – John Clor – Enthusiast Communications Manager / Ford Performance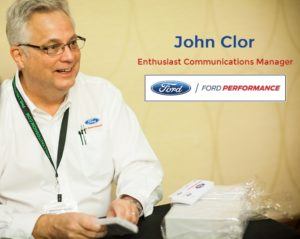 You've read his columns in Mustang magazines for years. You've seen him talk Mustangs in movies, videos and on TV. You may even own his limited-edition, sold-out hardcover books, "Mustang Dynasty" or "Mustang 2015." Now – you can meet him IN PERSON!
Acclaimed auto journalist and author John Clor, a former SVT PR man who today is the Enthusiast Communications Manager for Ford Performance, will be making a special appearance at our show.
Look for his Ford Performance display on the show field on Saturday, where he'll be doing a Meet & Greet, complete with giveaways for all who stop by. Don't miss this chance to meet and talk to one of Ford's most notable Mustang spokesmen at our show – all the way from Dearborn!
Model T Ford Club of Greater St Louis will be doing a Quick Assembly Model T the afternoon of the car show.
DOWNLOAD THE EVENT FLYER Join Us As We Celebrate 40 Great Years!